News
Here you will find the clubs news with information on past meetings
Tony Goldthorpe
30/09/2019
Tony came and gave a demonstration of painting in the Bob Ross style. A very entertaining evening was had by all watching Tony complete not 1, not 2 but 3 paintings in the evening. All different and showing different techniques. Two were painted on black boards, one of poppies that really shone out, the second a breaking wave and seascape, the third was a landscape of mountains and trees. Fantastic. Thoroughly enjoyable evening.
Rawdon Exhibition
23/09/2019
A chance to exhibit our paintings in Rawdon Library has been offered.
This letter has been sent to all members email address but is included here in full.
Good morning all,
Menston Arts Club has been approached by Rawdon Library with an offer to exhibit our( MAC) paintings above the book shelves in Rawdon library.
We have visited the library and have found the premises to be light and spacious. At the present moment Guiseley Art Club have an exhibition hanging ( and very good it looks too).
The librarian has suggested a three month slot which of course means that our own Autumn exhibition would be on in this period.

The library would, should a picture sell, take 15 % commission and then forward the rest of the payment to the artist via our treasurer who would manage the transactions.
We the committee would organise posters giving information about MAC and news of our forthcoming exhibition.
We would also print information about the pictures (to be attached to the pictures when they are hung) as it is felt that consistency of presentation would add to the general appearance of the whole.

The information on these cards should be:
the name of the artist
the title of the picture
the media used
the price of the picture

So we are asking members to prepare two pictures (one to hang and a spare) no larger than 24" x18"landscape, 18"x 18" portrait - these sizes are for guidance but a lot larger or a lot smaller would result in not fitting the space or being too small to be admired!
We ask that the same information on the cards about your picture be attached firmly to the back of your pictures and that the information only be sent to Fran Philby (who has kindly said she will print the information cards).

We will ask for your pictures (very safely packaged) nearer the date of hanging which we now know to be the second week in October. We ask members to submit their information ONLY ASAP. There is space for only 34 pictures so a first information received policy will be in operation. Members who do not have access to email will be informed either by telephone or post.

This is a delightful opportunity to showcase our talents so looking forward to hearing from you all.

All the best Judith (Tomlinson, on behalf of MAC committee)
Workshop based on Robert Austin's demonstration
22/09/2019
Workshop based on Robert Austin's demonstration.
Following on from Robert Austin's inspirational demonstration we all had a go at creating realistic clouds. We all enjoyed the challenge and produced some interesting paintings. Most did more than one painting and had an enjoyable evening.
Robert Austin demonstration
09/09/2019
Robert Austin gave a very interesting demonstration of the painting of different types of cloud. Wonderful and inspirational, he gave 4 very different quick demonstrations with Blue Peter style 'here's one I did earlier' examples of each painting.
Anita Daniel
24/06/2019
Portrait drawing in tonal values. Anita showed us how to draw a portrait in shapes and tone using charcoal. Very interesting and unusual technique of drawing a portrait from a photograph upside down!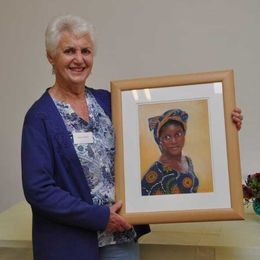 People's choice May 2019 exhibition
11/05/2019
At our exhibition held in May 2019 our visitors voted for their favourite painting, the winner was Joan Loach's wonderful pastel painting of a 'Gambian Woman'.
Jeremy
26/03/2018
Critique
Jeremy Taylor came to our meeting to give a critique of members work. Very constructive evening where everyone benefited by listening to Jeremy's comments.
People's choice May 2018
19/05/2018
Winner of the people's favourite painting award at the May 2018 exhibition was Tom Tompson. The prize was awarded to Tom by the club's President Mrs Anne Wade